A premium direct
to fan solution for
labels and artists.
With thousands of features, Limited Run is the most powerful platform to sell your music & merch.
Digital Done Right
Our digital system is the best in the business. Upload anything you can dream of, link it to a physical product, or just sell it on its own. You can even upload lossless audio and we'll automatically convert it to a bunch of great formats for your customers to choose from.
Flexible Physical Sales
Selling physical products is as versatile as it gets. Inventory tracking. Cart Limiting for fast selling, low quantity items. Multiple shipping profiles across unlimited variations. Plus, you can use our efficient and customizable packing system to make shipping your orders easy.
Ticket Selling Made Simple
Selling tickets and managing your shows has never been easier than with our Ticket Selling feature. We provide a host of features like Will Call and Guest List management for you, and Google Maps integration and 24 hour reminder emails for your fans. Read more »
Full Custom HTML
Pick from one of our great themes or create your own totally custom design. Whether you just want a store or an entire website, theming and custom pages let you accomplish whatever look you're trying to achieve.
SoundCloud Integration
With our SoundCloud Integration, we automatically upload your music, create sets, and embed players into your product pages. Whether you want to stream an entire album, or just a single song, we make it extremely easy.
App Store
You can easily build an entire site to go with your store, when you install Apps like News and Roster. Our App Store also boasts great features for adding Sales Tax and giving Discounts. Add the features you need, remove the ones you don't.
Bundles & VIP Packages
Never separate inventory again, when using our bundle feature. Be creative with your combinations! You can also boost tour revenue by optionally selling tickets to your next show in VIP packages & stay organized with our Will Call List manager.
Digital & Physical Pre-Orders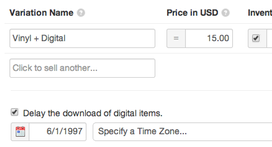 Need a way to pre-sell an album before the release date? Sell your album with or without inventory, delay the delivery of digital until a certain date, and even email fans automatically when the pre-order is available.
Email Fans About Availability
Collect email addresses from fans looking to buy an Out of Stock or Coming Soon item. When you make the item available, we'll email everyone who requested to be notified. It's perfect for notifying fans about a new pre-order that's up for sale.
Customers can pay you directly with PayPal or Credit Card.
Discount Codes

Extremely versatile system that allows a fixed or percentage discount, with or without a code. You can even give out free shipping when a specific total is reached.
Custom Domain

Using your own custom domain on Limited Run lets you better integrate with your parent site or puts the final touch on making it your fans' ultimate destination.
Sales Reports

Let us display your sales in an easy to read graph. At a glance, you can see what you sold yesterday, or a week ago, and all in your own time zone.
Unlimited Custom Pages

Build a custom page using HTML or our RIch Text Editor. You can also create links out to external pages like Twitter, Facebook, Tumblr, etc.
Batch Uploading

No one wants to upload one file at a time. With our batch upload system, you can select as many files as you want and they'll immediately start uploading.
Powerful Order Management

Print packing slips, shipping labels, an order checklist, mark orders as shipped, email customers updated order info, and more, with just one click.
24 / 7 / 365 Support

No one takes customer service more seriously than us. Prompt and clear support is priority #1. We're available at all times of the day, and any day of the year.
Cart Limiting

With our industry-first Cart Limiting feature, you can easily restrict the cart quantity of your fast selling, limited run items. It's the only way to make sure all your fans get their fair shot.
Digital Street Date

The Digital Street Date App allows you to delay the download of digital items until whatever date and time zone you specify. It's perfect for preorders of a physical item with digital attached.
Advanced Dashboard

With our dashboard, you can upload multiple digital items at once, generate hundreds of packing slips and labels, export your entire product catalog, and more.
Ultimate Product Creator

Whether the product is physical, digital, or both, our creator lets you build it in a single form. Upload digital, control the inventory, add variations, add a SoundCloud player, and more.
Name Your Own Price

Set the product price and allow your customers to optionally give you more than you're asking. If you set a minimum of 0, and they don't pay you, we won't charge you.
Give Away Digital For Free

If you don't charge for your digital files, we don't charge you. Freely promote yourself by spreading your digital products far and wide without the worry of cost.
Customer Management

With our Customer Manager, you can see, search, and sort, a comprehensive list of your customers, as well as how much they've ordered from you.
Live Inventory Stats

With live updating inventory stats in your dashboard, you'll never have to click refresh to see how many items you have left, ever again. It's perfect for new releases.
Instant Track Listings

When using our lossless audio feature, you'll have the ability to automatically drop track listings into your product page, right from the product creator.
Catalog Numbers

Prominently display catalog numbers on your product pages. This will help your customers search for specific items in your store. It'll also help you manage your inventory.
Pressing Information

Give collectors their rarity fix by prominently displaying the pressing info for all your vinyl, right on their product pages. Yes, vinyl is the plural of vinyl.
Flexible Shipping

You can create, and save, finely tuned shipping profiles for every product variation. Profiles attached to your variations can all be different, allowing you more versatility on a single product.
Uninterrupted Checkout
Your customers never leave the product page when checking out. They can even continue listening to a SoundCloud player while paying. It's simply the fastest checkout around.
Multiple Currencies

Manage all your sales in the currency of your choice. You can choose from USD, Euro, British Pound, Canadian Dollar, Australian Dollar, or sixteen others.
Integrated Contact Form

Let customers contact you through your store using our simple Contact Form App. We even have a nice captcha to avoid spam from Nigerian robot princes.
Product Exporter

Going out to a show or convention and bringing some of your stock? Well now you can export your entire inventory list so you know what you have back at headquarters.
Maintenance Page

Doing a big redesign to your store? Adding a major product release? Going on vacation? Use our maintenance page option to tell your customers what's going on.
Here are a few sites using Limited Run.